Stunning Senior Photo Session – Boulder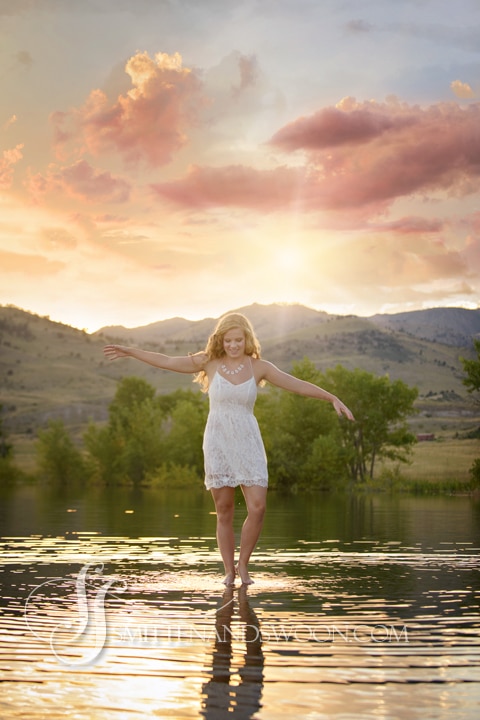 Elizabeth's Stunning Senior Photo Session – Boulder
When I first spoke with Elizabeth about her senior photos, she mentioned she was a swimmer and wanted to incorporate water into part of her photo session. It was exciting to plan this session, knowing she was willing to try something different. Her mother, who is also a swimmer, joined us for the photo shoot. As a fellow mermaid, I was more than happy to take pictures in and around the water! One of North Boulder's beautiful private lakes was chosen as the perfect backdrop for these stunning photographs. It was hard to tell where the water stopped and the mountains began.
By placing a stool just under the waters height, it gave the illusion of her floating on top of the water. Everything came together perfectly for this part of the photo session; the dress she choose to wear, her hair, the make-up done by the wonderful girls at Alchemy Mineral Blends, and the location. Her poses looked so natural. Elizabeth made it look easy! She was up for potentially sacrificing her dress, and going all in for some beautiful water shots.
Prior to going to the lake, we also captured some amazing shots around the Smitten and Swoon studio. Her outfit choices were perfect for senior photography. It was such a pleasure working with Elizabeth and her mother. They were such great sports, and worked hard to help me capture these amazing pictures.
If you are planning to have your senior photos taken, and have a passion you would like to incorporate into the session, please let me know during our consultation! It is a great opportunity to bring originality into creating a photo session that is unique to you!