Best Newborn Photographer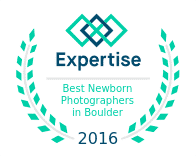 Best Newborn Photographer | Smitten & Swoon Photography
We are so honored to have received the award as one of the best newborn photographers in Boulder!
Out of 289 newborn photographers in Boulder, 19 were chosen.  We were among the top 19.  The goal was to connect people with the best local experts.  To do so, they analyzed and scored newborn photographers on more than 25 variables across six categories to give a hand-picked list of the best newborn photographers in Boulder, Co.  Their criteria:
Reputation: A history of delighted customers as a signal of outstanding service.
Credibility: Building customer confidence with licensing, industry accreditations, and awards.
Experience: Masters of their craft, based on years of practical experience and education.
Availability: Consistently approachable and responsive, so customers never feel ignored.
Professionalism: Providing customers a seamless experience both online and off.
Engagement: Actively engaged with their customers across a number of platforms.
Thank you so much Expertise.  We are so grateful to be named among the best!
We wanted to share a few beautiful newborns that have visited the studio recently.  These sleepy little babies are heart melting.  From their tiny toes to their button nose our goal is to document it all in a timeless, beautiful way.
Best Newborn Photographer in Boulder | Smitten & Swoon Photography
Smitten & Swoon is Boulder's newborn photography studio.  All newborns are photographed in our little studio in north Boulder.  All the props are provided, and many of the hair pretties and tiny clothes are homemade.  The studio gets very warm for the comfort of your baby.  All sessions are slow and relaxed with time for nursing, cuddling and to get your baby to sleep.  We love maternity photo sessions as well!  It's wonderful to meet you before the newborn session and capture one beautiful image of your pregnancy.