Planning your Newborn Photo Shoot – How to get inspired!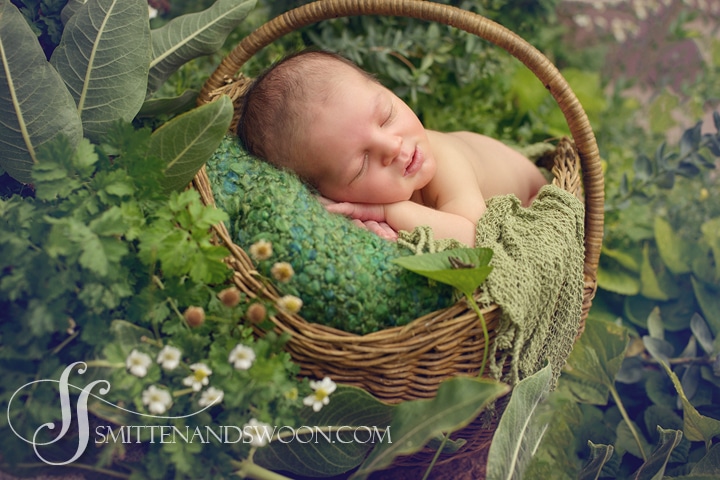 Planning your Newborn Photo Shoot – How to get inspired!
Newborn photography is a favorite at Smitten and Swoon.  Here are some ideas to help you get ready for your newborn's photo shoot!
Think about what represents you as individuals.
What are your hobbies?  Passions?  Things that define you as a person or family?  Always wear a bow tie?  Love a certain sport?  Have a favorite color?  These are all good things to ask yourself and to consider when thinking of ways to make the photo shoot unique to you and your baby.
Bring props that have meaning.  Maybe you have articles of clothing that you once wore as a baby.  Or a special blanket lovingly made by a family member or friend? Or a meaningful gift your newborn received. (As a bonus, the final photo makes a wonderful thank you gift.)  It's a great idea to incorporate these items to add a special something extra to the shoot.
Did you know D'Ann hand makes many of the props, hair pretties and knitted blankets in her photos?  Make a request and she'd love to create a beautiful prop for your photo shoot.
Start a Pinterest Board.  Pinterest is the perfect tool to organize ideas and inspiration for this special shoot.  Its also a great way to communicate with your photographer.  Use images to explain what you do or don't like.  I highly recommend putting the app on your phone, if you don't have it already.  When you have a few free minutes you can quickly search for more photos and add them to your board for inspiration.  Did you know you can start secret boards?  Only you and people you choose to share them with can see what is on them.
Have a meeting before your shoot. If you are planning a photo session that has a lot of your own props, it can be helpful to have a consultation prior to shooting with your photographer.  Bring the props that you you have and take the time to lay them out to see what it will look like the day of the photo session.  Ideas that you thought would work easily may not be so easy.  It can save a lot of time the day of the photo shoot. Identify your "must-have" shots.  The flow of the actual shoot will depend a lot on your baby's mood that day.  Having a game plan and knowing the set up for each pose will save a lot of time and make sure you get exactly what you want out of your newborn photo shoot!
What inspired your newborn shoot?  Smitten and Swoon would love to hear about them!